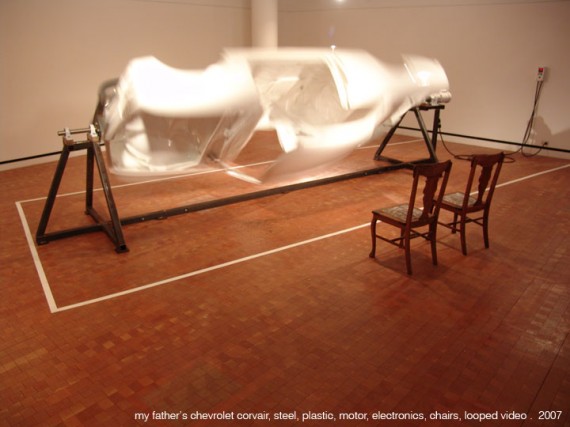 In March of 1965 a young and determined Ralph Nader appeared for the first time before the United States senate and began his assault on the automotive industry. It was the beginning of sweeping changes in America's attitudes towards safety and a significant event in the nation's building distrust in both their government and large corporations. At the center of this controversy was the Chevrolet Corvair. Nader accused General Motors of designing an unsafe car that, due to its unique suspension and rear engine, would easily roll over during casual driving. Even worse Nader claimed that executives at GM knew of the dangers and had consciously decided not to fix the design. Changes would have proven too expensive and the car was already over budget. Generally accepted as the most radical car ever to be produced by a major American auto manufacturer, the Corvair was both an unprecedented risk for General Motors and an easy target. With its air cooled rear engine and long list of other first time innovations, clean styling, and nearly 30 MPG; the soul of the car was more European than American.
Unfortunately it was not really the Corvair that was "Unsafe at any Speed". Statistically it was actually far safer than other more popular cars of the time and yet these facts went completely unnoticed. The truth is that the whole industry was plagued with questionable attitudes and needed a shakeup in order to instigate change. The facts surrounding Nader, the Corvair, and the public are a complicated and seldom told story. But in the end these issues are not what's really important. Through his attacks on the Corvair Nader had both unwittingly convinced consumers and the American automotive industry not to embrace any more wild and new ideas, and permanently damaged the image of General Motors. In an era of massive change the most powerful corporation in the United States decided it should start playing it safe.
 In 1969 my parents bought a dark green 1966 Corvair Corsa. It had only a few thousand miles on it and they got it for a song. The original owner was a Wisconsin farmer who had accidentally backed his corn picker into the car's right side. After having the fender repaired it became my parents second Corvair and, with its purchase, wholly solidified a family obsession with the notorious automobile. By this time Ralph Nader had long been famous for his mission to retool Detroit and had already started moving onto other things. As if searching for something overlooked to believe in my parents were attracted to the uniqueness of the Corvair and wanted to prove that the car was not flawed. They went on to lean everything about their cars; fixing them, showing them, racing them, and contributing to the founding of the first Corvair Club in Chicago. Of their two Corvairs they drove the green Corsa less often as it was the rare top of the line model. I remember being told stories that transformed it into a perfect and magical thing. How they drove through Ontario on the first night of their honeymoon and accidentally hit a bear. How it would always gather a crowd because of the sound of its perfectly tuned motor. How the left headlight was illegally bright as it came from the landing gear of a B-52 bomber. How my father had made engine parts for it in the chemistry lab. The machine had personality and was allowed to grow, bit by bit, into a member of the family.
 Although the places where the child seat attached are still visible, I can only remember riding in it once. It was the last time it ran on a dark and cold November in the late 70s. I remember my father swearing as we limped home. He had just fixed something that had broken again almost instantly. Rust had eaten a large hole under the drivers floor and was spreading quickly like cancer across the once show winning car's body. Looking over his shoulder I remember watching the pavement sliding effortlessly just inches from my father's feel as we coasted into the driveway. At the time nothing seemed all that monumental about the drive. It was however the final straw. My parents decided to park their frustration until they had the time and money to fix it.
 It sat for 29 years.
 My parents lost in interest in trying to fix the car but could never bring themselves to get rid of it. I always thought of it with a special reverence and it became as much of an heirloom as anything could be. Not knowing the engine had permanently rusted in place I would show it off to my childhood friends when they came over. Sometimes I would eat my dinner in it to get away from a family fight or sit in it while it rained imagining what it would be like running and restored. I felt like we had let it down and allowed it to die slowly in our hands. We would pump up its tires and push it around once or twice a year as it was always sinking into the asphalt. I remember my older brother religiously rolling the windows down every day as if that would keep it nice inside. It didn't. The upholstery had burst open everywhere and hemorrhaged material that was relaxing back into the world of plants and animals. My brother always seemed the likely candidate for the privilege of restoring the car however by the time it was clear I would have the responsibility it was far too gone. After having been driven only 42 thousand miles it would gently slip away.